Gnocchi Alla Huxley - somaweb.org

Aldous Huxley contributed to a book called Food For The Famous. Published in the middle of this century. The following is the recipe.
Gnocchi di Patate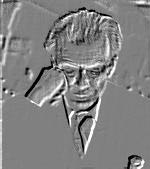 Boil 2lb. potatoes and sieve whilst still hot. Mix with 1/2 lb. flour and salt
to taste. Roll mixture into finger-thick strips and cut into 1 1/2 inch
lengths. Boil 2 quarts salted water and throw in half the gnocchi. As they
come to the surface scoop them out and add others. Serve with a little melted
butter (or tomato sauce) and sprinkle with grated cheese.
Submitted by Dorothy Walker.